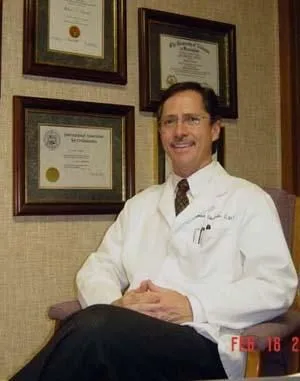 Dr. Edwards is a native of Birmingham, Alabama and moved to Randolph County in 1979 to practice comprehensive dentistry. He attended college at Birmingham Southern College and the University of Alabama in Birmingham earning a Bachelor of Science Degree in Natural Sciences and Mathematics. He earned his Doctor of Dental Medicine degree from the University of Alabama School of Dentistry. Dr. Edwards received additional training in the United States Public Health Service and has earned his Fellowship and Mastership in the Academy of General Dentistry.
Dr. Edwards is married to Terri and has four children and eight grand children. The Edwards enjoy outdoor activities, sports and spending time as a family. Dr. Edwards has been an adjunct associate professor at the University of Alabama School of Dentistry since 1995 in the Department of Hospital Dentistry and Comprehensive Care Dentistry. Dr. Edwards is very active in the profession having served in all the offices of his Alabama district dental society and the Alabama Academy of General Dentistry, including president in 1995. Dr Edwards also served as president of the Alabama Dental Association in 2013.
Dr. Edwards served as past chairman of the ADA anesthesia committee and served on the ADA Council on Dental Education and Licensure. Dr Edwards lectures nationally on the subject of sedation and anxiety reduction in dentistry. He has received numerous awards in dentistry including being inducted into the Omicron Kappa Upsilon Honor Dental Society, Fellowship in the Pierre Fauchard Society and Fellowship in the The American College of Dentists. Dr Edwards was awarded the Distinguished Alumnus Award from UAB School of Dentistry. In 2019 Dr Edwards received the Fulmer Award presented by the alumni association recognizing excellence in service to the dental profession.
In October of 2011, Dr Edwards was awarded Fellowship in the International College of Dentist and served as an alternate delegate to the American Dental Association. Dr. Edwards has postgraduate training in dental procedures such as dental implants, cosmetic dentistry,and restorative dentistry, only to mention a few. He is dedicated to continuing education and teaching to bring his family of patients the very latest advances in the profession.